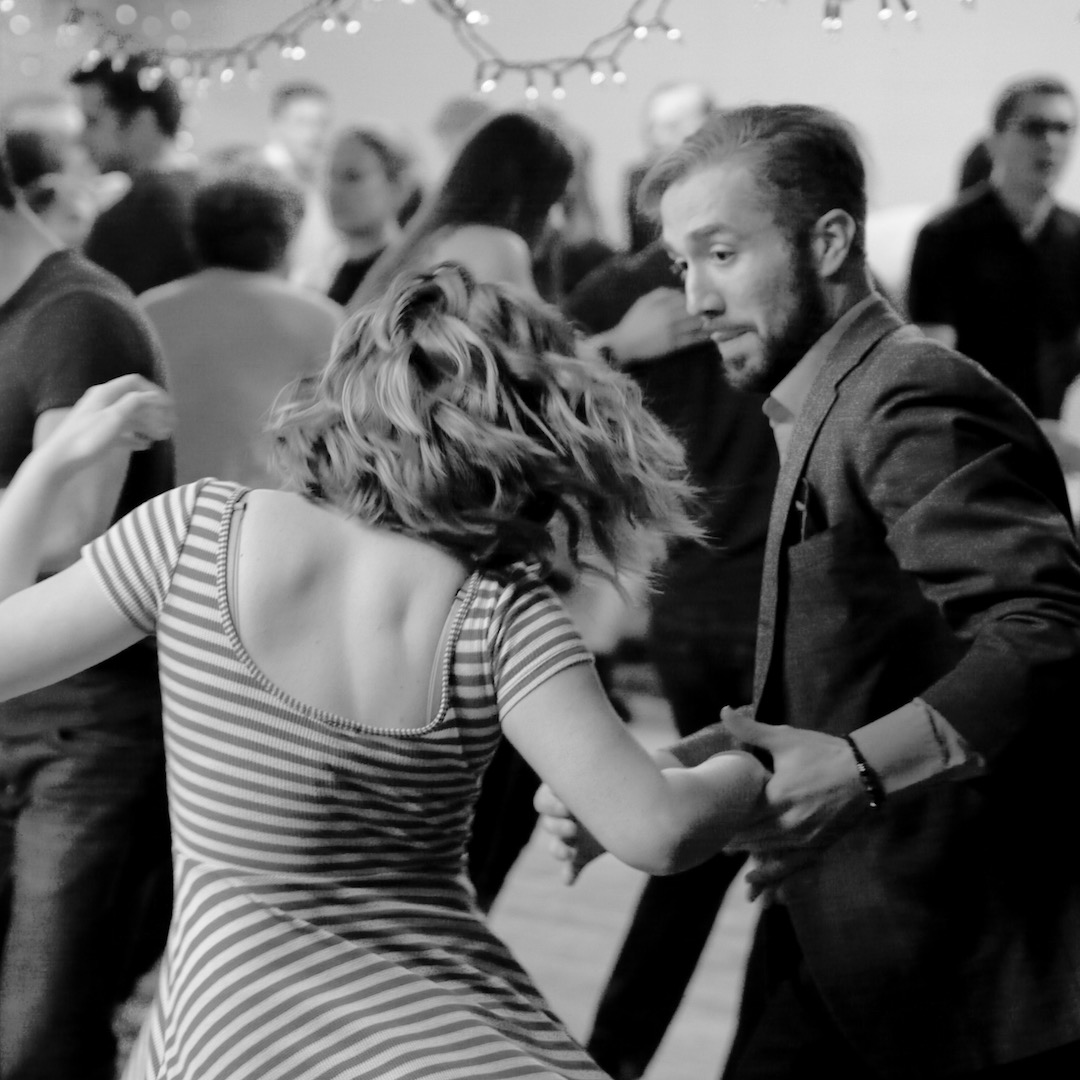 No experience or partner required
Anyone can learn to dance and it's never too late to get started. We'll make sure that taking your first dance steps is a fun, inclusive, and positive experience. Join us!
Welcome to your first swing dance class!
Learn Lindy Hop and Charleston, the original dances of the swing era!
Swing dancing is joyful, free spirited, and infectious. It's unabashedly fun with a carefree style that closely reflects the music of the late 20s hot Jazz to the early 40s Big Band music. You're going to love it!
Lindy Hop and Charleston are partnered social dances but you don't need to bring your own partner. We rotate during the class so that you have a chance to meet and dance with many different people.
Our inclusive and friendly Beginner classes take place at 8pm every Monday night. Join us! (We will not hold classes Monday September 3rd(Labor Day))
First Class FAQ
Learning to take your first dance steps can be a bit daunting, but we're here to make the process as fun and friendly as possible. Here are some things to know before you begin:
When are the classes and when can I start?
We run a 4-week Level 1 "Intro to Swing" class every month on Monday nights at 8pm.(The October series will be five months) All of our lessons are progressive which means that each week we build on the material taught the previous week. Each Level 1 series lasts one month, and you can join a new session the first or second week of the month.
How can I register?
Click here to buy a 4 Class Punch Card. Welcome!
Where are the classes held?
Kakes Studios, 2115 Pearl St. Boulder, CO, 80302
I missed the first class of the month. Can I still join?
Yes, you can join the second week of a series! But be aware that the class will be covering material faster than in the first week due to the progressive nature. You cannot join after the second week, but the next series is only two weeks away at this point!
Do I need a partner?
You do not need to bring a partner. We rotate partners in all of our classes so that students get experience dancing with a variety of people. We've found that by rotating our students learn much faster. In our Level 1 classes we have some more advanced dancers who take the classes and serve as Dance Ambassadors. By rotating you get the opportunity to dance with these more experienced dancers who can help you get the hang of things quicker.
How can I stay informed about new classes and events?
Click here to join our newsletter.
What kind of Swing dancing do you teach?
The term "Swing" refers to a number of different dance styles that evolved in the swing era and are rooted in swing music. In our Level 1 class we start with Lindy Hop. In later levels we progress to other swing dances like Charleston and Balboa. We teach a variety of swing-era dances such as Lindy Hop, Charleston, and Balboa. While each of these dances are distinct, today most swing dancers are familiar with and dance all of them. Check out our Swing 101 page for more information.
What should I wear?
Lindy Hop is a casual dance, and it's also quite athletic. We suggest comfortable clothes that you can move around in, and flat shoes that will stay on your feet (open backed shoes or flip flops don't work well.) Followers don't generally wear heels in Lindy.
How much does it cost?
Each class costs $15. We also sell a multi-class punchcard that substantially reduces the cost. A 4-class punch card costs $50 ($30 for students with a valid student ID). You can buy a punchcard online and pick it up before your first class, or you can buy a punchcard at the door.
Do I need to preregister?
Preregistration isn't mandatory, however it's very convenient to buy a 4-class punch card in advance. Otherwise, we accept cash and most major credit cards at the door. We cannot accept checks.
What other class levels do you offer?
As our students become more confident with the material, they can progress to a number of different levels. Find out more about how our class levels are structured here.
What is the ettiquette at dances and in classes?
We have created a handy guide to the expected etiquette at all of our events. Following these simple guidelines will help ensure everyone has an enjoyable time.
What about personal hygiene?
While dancing in crowded venues it is easy to get sweaty. Most dancers bring an extra shirt or two to change into as the night goes on as dancing with someone who has sweated through their clothing is unpleasant. Also consider bringing deodorant and breath mints to stave off personal odors. If someone is particularly smelly, speak to one of the instructors or staff and they will delicately approach the issue with the person.
How can I practice once I've started class?
We have created videos of the material covered in class here to help make it easier to remember. The best way to improve is to get out dancing as soon as possible! Stick around and dance with your fellow students or our Dance Ambassadors after class.
Do you offer private lessons?
We currently do not have any availability for new private lessons.
Any suggestions for Swing songs to listen and practice to?
We have a Spotify list of music that's great for practicing on our music page.